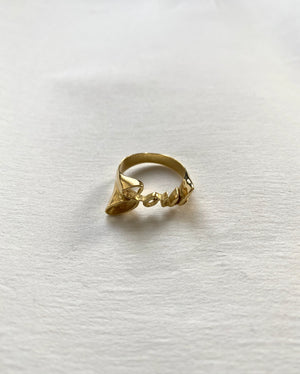 SOUL RING 14K GOLD
Sale price Price €119,95 Regular price
Details
The timeless Soul Ring.
This piece is made out of 925 sterling silver and 14K gold.
We have chosen for a 5 micron 14K gold plating, which is perfect for this piece.

All pieces are designed & handcrafted with precision and delicacy here in Amsterdam.
Production time: 1-2 weeks
For info on the solid gold Piece: info@thesoulpiece.com
Care
Avoid contact with perfume, shower gels, hair products, lotions and other chemicals. 
Please take off your Piece when your hands will be in contact with any form of water.
Sizing
Don't know your size?
Option 1
Just go to your nearest jewelry store to measure your ring size.

Option 2
If you have a ring that fits the finger you want to wear your Soul Ring on, measure it like the picture below.
Read the exact middle in millimeters.

Option 3
1. Grab a piece of non-stretchable string or paper.
2. Wrap it around the finger where the ring will be worn, making sure it's comfortable.
3. Find the exact place where the string or paper completes the circle around your finger, then use a marker to draw a line to mark the spot.
4. To find the inner circumference of the ring, measure the piece of string or paper with a ruler (in mm).
5. Use the ring size guide to convert the inner circumference measurements to your ideal ring size.
Inner Circumference            Inner  Diameter
(mm)                                      (mm)
47                                           15    
49                                           15,5 
50,3                                        16    
52                                           16,5 
53,3                                        17    
55                                           17,5 
56,5                                        18    
58                                           18,5 
60                                           19    
61,3                                        19,5 
63                                           20    
64,3                                        20,5 
66                                           21    
67,5                                        21,5 
69                                           22